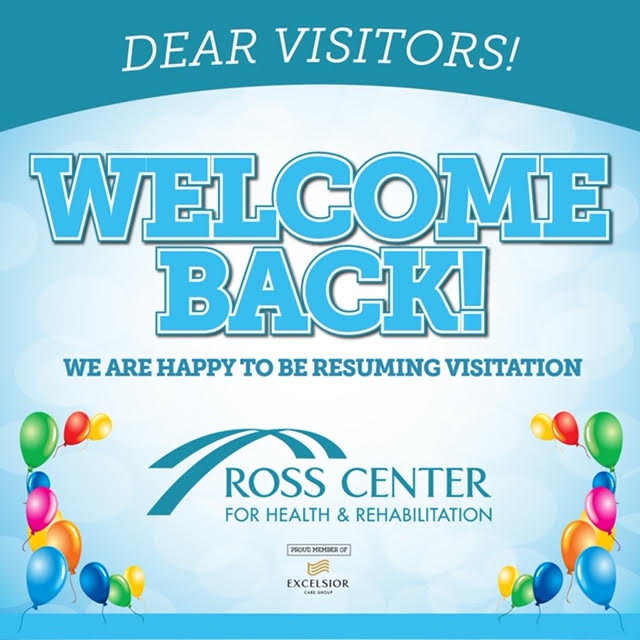 We are excited to announce that our visitation plan has been accepted by DOH!!!
Starting Wednesday 7/29 we will be resuming OUTDOOR visitation.
Official schedule is as follows:
Monday – window visitation Tuesday – 11a-6p outdoors Wednesday – 11a-6p outdoors Thursday – window visitation Friday – 11a-6p outdoors Saturday – 11a-6p outdoors Sunday – 10a-3p outdoors
All visitation will be done by appointment only, visitation blocks are max 30mins.
Looking forward to seeing you all reconnect in person with your loved ones! 
️ #TheExcelsiorWay
Welcome to Ross Center for Health & Rehabilitation, a premier subacute care facility in Brentwood, NY.
Renowned as an exceptional community healthcare resource for many years, we deliver a comprehensive array of specialized services and clinical programs including intensive Physical, Occupational and Speech Therapies, Pulmonary Rehab, Cardiac Care and Stroke Recovery in a warm, healing environment. Today, as a proud member of the Excelsior Care Group and its progressive vision of care, we proactively anticipate, meet and surpass our patients' needs on a daily basis.
"To Whom it May Concern, I entered the Ross Nursing Home May 9, 2016 from a spinal cord injury. When I first came to Ross, I was unable to get out of bed, dress myself, shower or even go to the bathroom without help. One year later with the help of the physical therapy people in Ross Nursing Home, I am now able to those tasks independently. Also, the occupational therapy crew help restore and take road test with hand held controls for my driver's license, directed me on fixing my child support issues and acquire safe housing for me to go on with my life, and set up for me to go to a computer business training course and basically showed me that life goes on in a wheelchair. I became a productive member of society thanks to the Ross nursing home." Thank you, – JP


Testimonials

"I enjoy being here and I've learned a lot since being here. Everybody is warm, friendly , kind and generous. Since I've been here I've gone to therapy and I'm walking better now. In the past 5 weeks since I've been here, I'm going to be moving on from a wheelchair to a walker. I feel so much stronger and happier and I have friends that love being around me and the staff also."
– Debra Slater, 10/8/2020

"My mom was in Ross during the middle of this pandemic. I live in Florida so it could have been difficult. Everyone from the Administrator David to Michael, Corinne, Karen, Meggin, Sarah, Max, Lanie, Jill & Kat was EXCEPTIONAL. Every call and email was returned. No matter who I spoke with, they ALWAYS had time. My mom had a great experience and had only praises for everyone there. She even found out how to use her Kindle! Thank you to everyone for always going above and beyond during these hard times."
– Christine Deblasis

"I've gotten great care, the aids and the staff are phenomenal. I haven't had any problems. The physical therapy team got me back to walking and I'm happy with the whole facility."
– Diane Hansen


"I am extremely grateful for all of the staff members, especially on the north wing. Not only are there smiles from most of the residents, but also from all of the staff members. The facility has been becoming extremely exquisite over the last year. I would highly recommend this facility to anyone looking for rehabilitation or a permanent residence for your loved one."
– Maria Nieves
ROSS CENTER FOR HEALTH & REHABILITATION
CONTACT INFO