Under New Management!
We are happy to announce that Ross Center for Health and Rehab is now under new leadership Management.
Whether you are coming in for short term rehabilitation or will be calling Ross your new home everyone is warmly welcomed. At Ross Center, you'll feel a genuine family-like atmosphere. Ross Center is managed by an actual family and is not a part of a large corporate group. Our new management team is led by two brothers, Peretz Stein, our facility administrator, and Nelson Stein the facility's CFO. Our management team prides itself on always being available as they are in-house daily. We look forward to taking care of your loved ones and thank you for entrusting us with their care.
Big shoutout to all of our amazing and hardworking employees!
Congrats on filling the building!
Thank you to the Brentwood Rotary Club for the donation of masks!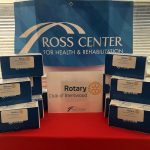 PROMOTING A HEALTHY AND SAFE ENVIRONMENT FOR OUR RESIDENTS AND STAFF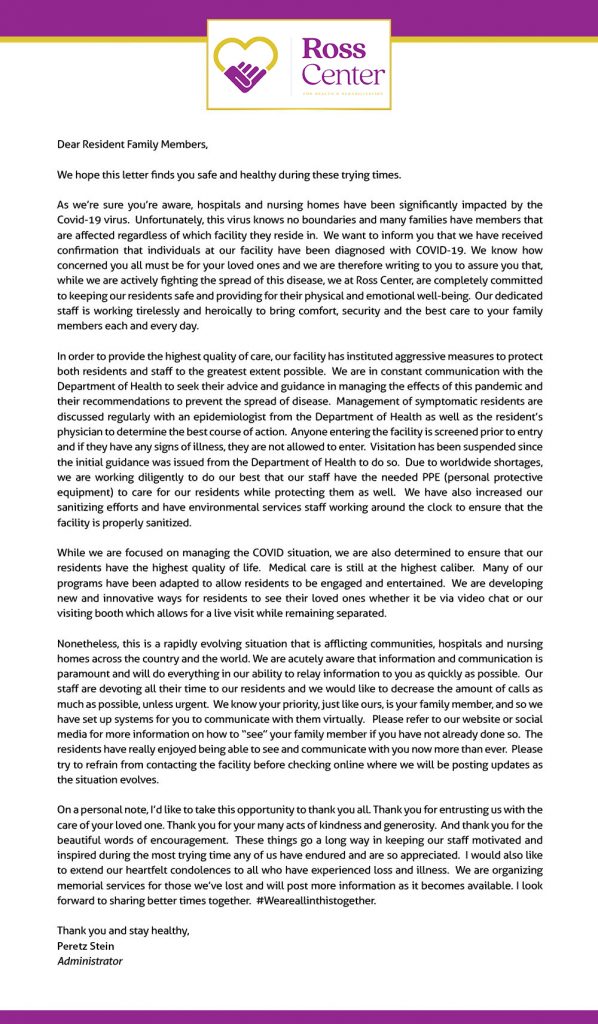 Welcome to Ross Center for Health & Rehabilitation, a premier subacute care facility in Brentwood, NY.
Renowned as an exceptional community healthcare resource for many years, we deliver a comprehensive array of specialized services and clinical programs including intensive Physical, Occupational and Speech Therapies, Pulmonary Rehab, Cardiac Care and Stroke Recovery in a warm, healing environment.
"To Whom it May Concern, I entered the Ross Nursing Home May 9, 2016 from a spinal cord injury. When I first came to Ross, I was unable to get out of bed, dress myself, shower or even go to the bathroom without help. One year later with the help of the physical therapy people in Ross Nursing Home, I am now able to those tasks independently. Also, the occupational therapy crew help restore and take road test with hand held controls for my driver's license, directed me on fixing my child support issues and acquire safe housing for me to go on with my life, and set up for me to go to a computer business training course and basically showed me that life goes on in a wheelchair. I became a productive member of society thanks to the Ross nursing home." Thank you, – JP
Testimonials

"Everything was good! The nurses, the aids, the therapists, they were all nice to me. I'm very happy. I'm telling you I don't want to leave here!"

"The PT department at Ross is very professional and a very caring department. They take you under their wing and teach you how to do all different exercises and whatever goal you have they make sure you meet that goal. Sherly the department head in PT and all of the other physical therapists are great. I was very happy I was able to train alongside this PT team."
– Lloyd S, Patient


– Kathleen Figalora, 2/10/22

Everyone is super kind and friendly! Extremely helpful and caring for us and my dad!
– Rosemarie, 2/3/22

– Dana Hernitche, 1/23/22

– GERARD GAMBARDELLA, 11/21

"They have a very nice staff at the Ross Rehab facility!!!"
– George Fitzpatrick, 11/21

ROSS CENTER FOR HEALTH & REHABILITATION