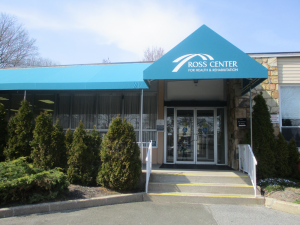 Nestled in Brentwood, Ross Center for Health and Rehabilitation is the go-to for skilled nursing Suffolk County.
Whether you need attentive healthcare services you cannot receive at home, require regenerative healing therapies and modalities after an operation, or need rehabilitation due to injury, we're here to guide your next steps towards returning to a beautiful life with your most optimal health as the forefront goal.
Skilled Nursing Near Suffolk County
At Ross Center, our dedicated staff makes it their mission to focus on patient and family education to provide the greatest patient satisfaction. Skilled and certified LPNs, RNs, CNAs, and GPAs are on-site, 24/7 to assist you.
Our goal is always to meet the ever-changing healthcare needs in the communities we serve and surpass the general standard with our most comprehensive care possible.
Subacute care is a huge part of Ross Center's rehabilitative program for anyone who's recently endured an operation. (Pre-book a room with us before you have your surgery to ensure you have peace of mind, post-operation!)
Our patients who are in need of skilled nursing Suffolk County can expect a state-of-the-art rehabilitation gym, ACP (Accelerated Care Plus) equipment, in-house expert physical therapists, occupational therapists and speech therapists who assess your particular situation and implement a goal-oriented plan to support your needs through your entire healing process.
Our 135-bed facility is a 24-hour operated rehabilitation facility whose main focus is to get our patients back out there, mobile, moving, and living again! We know how frustrating it can be to have to endure an injury or operation. As limiting as your ailment may be, we will get you on course with specially curated therapies that suit your specific needs.
If you're seeking more information about we provide at Ross Center, below is a list of our clinical services and treatments:
Clinical Services We Provide
•Post-Operative Subacute Care
•24-Hour Nursing Care
•Daily Physical, Occupational & Speech Therapy
•Orthopedic Rehabilitation
•Pulmonary Rehabilitation
•Cardiac Recovery
•Stroke Rehabilitation
•Wound & Decubitus Management
•Respiratory Therapy
•Amputee Rehabilitation
•Restorative Care
•Pain Management
•Advanced Practice Registered Nurse (APRN)
•Primary Care & Specialty Physician Services
•IV Lasix
•EKG Machine
•Nutrition Services
•Therapeutic Recreation
•Palliative/Hospice Care
•Respite Care
•Social Services
•Family Counseling & Support
•24/7 Admissions
Ross Center For Skilled Nursing Care & Rehabilitation
Our dedicated team ensures your recovery will consist of a seamless continuum of care and pleasant experience from beginning to end. We take your health very seriously and want to see you thrive, back in action, living your life to the fullest.
Refer to our website for more information, testimonials from our beloved patients, and a fun event calendar of recreational activities we provide to all who receive care from us.
To learn more, you may do so by simply browsing through our offered services.
If you're interested in choosing our skilled nursing Suffolk County staff to aid you in your rehabilitation, please give us a call at any time to set up a tour or appointment! 631-237-4700.
Are you ready to take the journey that leads back to optimal health and wellness?
Life has so much more in store for you after your operation.